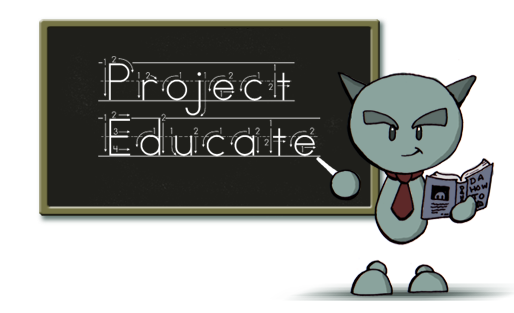 Artist Relations - Putting unity into the community
Welcome to the Artist Relations Teams
Did You Knows
!! This will be a weekly article that the AR team will use to share tid bits of information with you. From miscat trends we are seeing, to little known facts, Artist Relations now gives you a simple way to keep up with the information we need to share.
Spotlight Did You Know
Digital + Traditional Mixed Media
Did you know that there is no category for a mix of traditional and Digital mediums?
"Whatchoo mean?" you ask, "I see Mixed Media categories in both Digital and Traditional! You're a dirty rotten liar!"
I'm no liar! You are correct that there are mixed media categories in both Digital and traditional, but what you apparently didn't notice is that they are not outside traditional and Digital, they are inside. When you pick Mixed media, you have to pick digital or traditional either before that or after. That means that you can have a traditional Mixed media piece, or a digital mixed media piece, but not a mix of both in DeviantArt's category structure.
A traditional Mixed media piece would be a mix of (to name a couple):

Pastels and Ink

Watercolours and Acrylic

Paints and Pencil Crayons

Markers and paint
A Digital Mixed media piece would be a mix of (to name a couple):

Pixeling and 3D

Vector and PS brushes/painting

Poser and digital painting

photomanipulation and fractal
Yes, it's true, you can have a mix of traditional and digital work, in fact it happens very often! But there is not a specific category for the mix.
So, now you're wondering how you decide where you put your work. Well that's actually simpler than you think and it all depends on the look of your work. When is comes to Digital traditional mixes you need to think to yourself, "Does this look digital, or does it look traditional?" or "If I put this in traditional art, will it get moved?".
Some people like to think, Well I spend X more minutes inking than I did colouring so it should be in traditional. Wrong.
You need to think of the browsers on DA. When they search for traditional work, they are looking for Oils, watercolours, pastels, graphite, and Pencil Crayons. A photoshop piece is not welcome or desired. It's best for them and it's best for you to put your work in a place where people want to see it.
One of the most common traditional/ Digital mixes is work that is penciled and/or inked traditionally and then coloured on photoshop, so lets use that as an example.
Where would this go? Digital my friends, digital.
Why? because when you look at an image that is digitally coloured, it LOOKS digital. The colouring is the most noticeable and recognizable part of the image. When you look at a watercolour painting for example that has some lineart in it, you call it a painting right? Even though there are lines and ink in it. It's most noticeable AS a painting. It's the same thing. A digitally coloured image is most noticeable AS a digital piece, so it's digital. Does your work look and feel more digital or traditional to you?
Sometimes it's a fine line, when in doubt, seek a second opinion and ask your favorite gallery director!
General Did You Knows
Did you know that most of the galleries have forums specific to them? a: there is a drop down categories box on the top of the forum where you can browse for the gallery you are interested in.
Did you know that the only things you should report as miscategorizations are just that: Deviations that are in the wrong place. If the specific deviation is a policy violation or if you think it's offensive you should report it as such.
Anime/Manga
Did you know that the Manga/Anime categories are for original characters and settings only? Any art based on an existing anime, manga, or video game, whether it's of the characters from the series or your own fan characters, are considered Fan Art.
Anthro
Did you know that "Anthro" is not the same than "Furry", but the so-called "furry art" is a small part of the Anthropomorphic Gallery?
Comics & Cartoons
Did you know that animations do not belong in the comics and cartoons category? This is correct, there is an animations category in both digital and traditional to post your images in motion!
Community Projects
Did you know that your Community Projects Gallery Director looks for ideas from you to bring to the community?
Did you know that the Community Projects Gallery has been streamlined for you to find exactly what you need?
Wallpaper
Did you know, you can upload zip/rar file containing several resolutions, variations or themes of the same wallpaper which is made available via the 'download' button in the submission. Also make sure you have a preview image of the wallpaper. This can be one of the full resolution images, or a custom 'face plate' image.
When you are going through the submission process, upload the ZIP as you would a normal image. The submission process will recognize your ZIP and then ask you to supply a preview image. Upload the preview image you have prepared and then fill in the rest of the submission details as normal.
When the work is submitted, the preview will appear as the submission image and the ZIP will be available as the "download file" link."
dA Related
dA Related
Did you know...
...If you get past deviantART Related when submitting, and your work has nothing to do with deviantART. You are in the wrong place.
...DA Tutorials is for tutorials relating on how to use deviantART and nothing else. If you have a tutorial for how to draw it belongs in Resources > Tutorials.
...Deviant Meet Photos is only for photos from deviantART Meets. This is where several deviants meet up somewhere, it's usually organised in advance and often contains specific activities. Photos of yourself do not belong here, nor do snapshots of the holiday you last went on. Any highly edited photo doesn't belong here either.
...Zines is a category for deviantART Related Zines. Not for those about your hobbies or anything else that isn't dA Related.
From Wikipedia: A zine—an abbreviation of the word fanzine, and originating from the word magazine[1][2]—is most commonly a small circulation, non-commercial publication of original or appropriated texts and images. More broadly, the term encompasses any self-published work of minority interest.
Digital Art
Did you know that painting on or over a photograph would be considered Digital Mixed Media and you must follow the stock artists rules by linking back and crediting the proper stock photo you used, images that include both photo and lots of hand painting are not photomanipulations nor are they paintings.
Did you know the difference between using an image as reference and using it in a painting? When you use an image as reference the image is not in your artwork, you may look at it to gain an idea of what something or someone looks like, poses, materials, eyes, face, etc. but the photo is not part of the work, and the finished painting should be uploaded to the proper paintings gallery, when you use a photo in your work this is not referencing, this is now mixed media.
Did you know that fractals can only be created using fractal software? Fractals cannot be created via the use of Photoshop or any other paint program.
Did you know photos taken with a digital camera does not mean they are digital artworks, and should still be submitted to the proper photography gallery.
Photo Manipulation
Did you know that Photomanipulations are works consisting of two or more photos merged together to create something altogether different than the original images? (this means that alterations such as changing color balances/curves, using filters, etc, are means to enhance a photo and therefore NOT photomanipulation, but still belongs in the photography galleries.)
Did you know that adding texture or brushes to a photograph that has not undergone manipulation still constitutes as photography? Given that the photo is not stock, but taken yourself, these works belong to Photography > Darkroom > Digital.
Did you know that search engines such as Google and Photobucket is NOT valid stock sources unless explicit permission is given by the owner of the material?
Did you know that drawing or writing on top of a picture does not constitute as a photomanipulation?
Did you know that Mixed Media is a combination of different artforms within
either
TRADITIONAL
or
DIGITAL works and
not
the two artforms combined?
Vector Art
Did you know..
...Photoshop/PSP brushes are not vector elements even if they have the word vector in their name. Brushes in image-editing software are always made up of pixels; if you use any of them on a piece you cannot submit it to the Vector gallery here on dA.
...Photoshop and PaintShopPro? ARE capable of producing vectors, but the artwork should be constructed of vector elements only (in practice this means the shapes should be drawn by hand using the pen tool).
...The Vector gallery on dA is intended for vector-only artwork, so if you would like to include photographic elements, texture backgrounds or raster brushwork then simply pick another category - Mixed Media and Digital Art > Miscellaneous are both good locations for work of this kind.
Film
- Did you know that owning a game, music cd, movie soundtrack, etc, because you bought it, doesn't give you the right to use the music contained in it for your own work, unless the music is royalty free and under a derivative license?
Did you know that if you are invited to submit to the Film Gallery, you have a second invitation to give to another quality film/animation artist?
Did you know that the
Film Gallery
has a resources section for stock footage that is available for you to contribute to and use in your film making? Find it here ->
STOCK FILM FOOTAGE </strong>
Photography
Did you know that captive zoo animals are still wild? They should be submitted to the Wild Animals category.
Did you know that images submitted to the Underwater category should be taken with the camera underwater, not just the subject underwater.
Did you know that images of people swimming/diving underwater belong in People & Portraits.
Did you know that the Human & Nature category will rarely include images of people. It is the result or the effect of our actions on nature that belong here.
Did you know when submitting to ANY miscellaneous category, take into account that the more artistic your work is, the more views and comments your work will get. Ask yourself if this is just a snapshot, or something deeper. Snapshots should be uploaded to scraps.
Abstract & Surreal Photography
Abstract
Did you know that abstract photography is characterized by the subject's indiscernibility? That means that you can't tell what the photo is actually an image of, or it is very difficult to figure out.
Did you know almost ALL of Abstract's miscategorizations are photographs of discernible subjects.
Surreal
Did you know that any surreal image created from multiple images is really a photo-manipulation? Surreal photography historically relies much on matters of chance encounters, reflections, mood, and message to relay the surreality or subreality of the image. It isn't quite the same thing as surreality in painting or other traditional arts because it comes from a different technological perspective, even though the tenants and theories are the same.
Artistic Nude Photography
Did you know you can place artistic nudes in other people in portrati galleries? Artistic nudes can be placed in any number of people and portrait galleries provide you check the "mature content" box. By default, this come on automatically when submitting to Fetish and Artistic Nude. It does not do so for other galleries for obvious reasons. Feel your artistic nude fits better in the Emotive Portrait gallery? Go ahead and submit it there. Just be sure to check the "mature content" box.
Did you know that Gallery Directors from artistic nudes can feature nudes that do not reside in the artistic nude gallery? ?Have a suggestion for a great piece of nude art work that is not in the artistic nude gallery. No problem, you can still suggest it to the gallery directors for Artistic Nudes.
Horror/Macabre Photography
Did you know that there is a Digital Art > Photo-Manipulation > Horror & Macabre gallery? One of the biggest problems in the Photography > Horror and Macabre gallery is the amount of digital art pieces that are submitted there. Remember, this is a photography gallery and digital work should be kept to a minimal. Photo-Manipulations do Not belolng in this gallery and should be placed in Digital Art > Photo-Manipulation > Horror & Macabre.
Street photography
Did you know that street photography is Street photography is a type of documentary photography that usually features people in candid situations in public places such as streets, parks, beaches, malls, political conventions, and other settings.
Did you know that photographs with buildings as the main subject should be placed in Architecture?
Did you know that scenes of everyday 'city life' belong in URBAN? Whereas street usually focuses on individuals
Did you know that images of street signs, lights,
Graffiti
, (not created by the photographer) should be categorized as miscellaneous? Graffiti created by the photographer should be categorized as Traditional Art > Street Art
Did you know that transportation has its own category within photography, and images depicting vehicles, highways, roads, etc. should be placed there?
Stock Images
Did you know that stock now has some guidelines which are here
news.deviantart.com/article/31…
?
Did you know the stock forum (
forum.deviantart.com/galleries…
is quite active and a great place to request stock?
Did you know we know we now have an official chatroom #arstock?
Traditional Art
Did you know that tattoo designs are actually submitted to Designs & Interfaces and not to Traditional Art?
Did you know photographs don't belong in the Traditional Art gallery? There is a Photography gallery and Scraps for your photographs.
Did you know that animation created digitally should be submitted to Digital Art > Miscellaneous > Animation and not into the Traditional gallery?
Did you know the animations gallery is not for images of cartoons from animated shows? It's a gallery to submit traditionally created animations
excluding
avatars...
Did you know that Photos of Tattoo Artists at work belong in the Traditional Gallery only if the tattoo being worked on is clearly shown?
Brought to you by your Artist Relations team!
Previous Issues
AR: Did You Know? Vol. 1