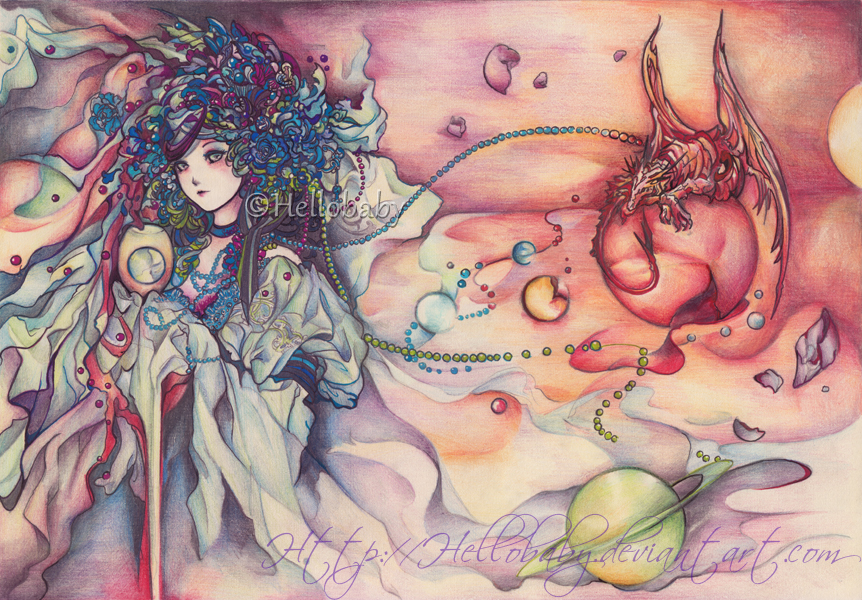 "It is such a big honour for me to be part of DeviantArt and now being this month's Deviousness award winner. I am Hellobaby, a self-taught artist, who loves drawing. My main tools are pencil & colour pencils and while I didn't go to art school, drawing is my passion. It's hard to believe that I joined DeviantArt 10 years ago! When I first joined, I was so confused and didn't know how to use DeviantArt, so after I created the account, I left it. About 5 months later, I came back and started to share my work. My first work was not even a drawing, it was a photo

. Then, I enjoyed finding new, amazing artists and was awed by them. I started to log into DA more often and eventually, every day! I must say that DeviantArt has helped me to develop my style. I used to draw and learn by myself, my style was very static.
I never knew there is another art world out there. Back then, I didn't even know what photoshop was (I thought it was some kind of traditional tool — isn't it silly

?). When I found DeviantArt, a new world was opened up for me and I had chance to see artists around the world work. The way they mixed colours, their styles, everything — something I had only dreamed of. I started to learn how to play with new colours, met more amazing artists, learned how they did things like anatomy, made friends around the world and all of that has influenced my style today. Though I still need to learn a lot and try to every day. Drawing was just a hobby from me and now it's like part of my life. Thanks a lot to DeviantArt and everyone who supported me from my very first step until now. You are always part of my heart."
---
---
October 2015
Deviousness Award Winner
Hellobaby is an integral part of our community at DeviantArt. A site member for 10 years, her unique style of traditional anime drawings have made her artwork instantly recognizable. In addition to her beautiful artwork, she has encouraged the growth and development of her fellow artists by hosting challenges, creating art features, and providing her own line art for other deviants to practice coloring. On top of this, she has dedicated a section of her profile to featuring deviants who may need help.
Hellobaby is the perfect example of a kindred and inspiring deviant and it is with great excitement that we name Hellobaby the recipient of the Deviousness Award for October 2015.
---